| | | |
| --- | --- | --- |
| Online Quizzes | PAGE (4 of 6) | |
WebCT Tutorial: Quizzes
---
After changing their default SSN password, students may use the quiz icon button, to access the CS 1704 WebCT quiz list. The quiz list page shown below, allows students to take quizzes by simply clicking on a quiz. Note that in the image below not all of the quizzes are currently available. The instructor has the option of when to make quizzes available. (More quizzes will be added to the list throughout the semester.)

Clicking on a available quiz will load the quiz page, the top of the which is displayed below. It shows the name of the quiz, start/current time and the number of questions in the left frame.

In the right frame, the quiz question table listing is shown. Each unanswered quiz is indicated by a red circle and each answered question is represented by a green star. In order to respond to a question the student need simply click on the appropriate answer radio button: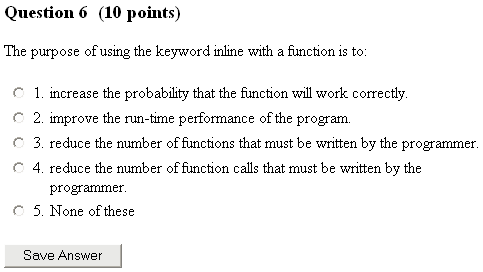 To mark the question as answered, the student must hit the save answer button after each question is answered. This will mark the question with a green star in the quiz question table listing. If a student decides to change a response to a question they must press the save answer button again to avoid submitting the wrong answer for grading.


After all of the questions have been answered the quiz may be submitted for automatic immediate grading. (Warning - Students should check to be sure that all questions are marked the question with green stars in the quiz question table listing before submitting.
---
| | |
| --- | --- |
| © CS Dept Va Tech, 2002. | All rights reserved. |